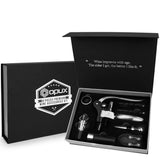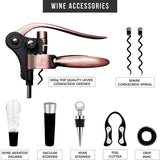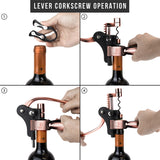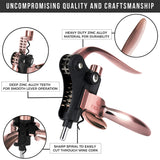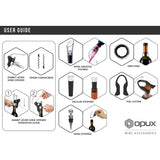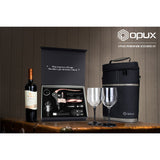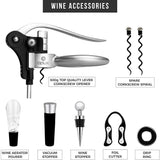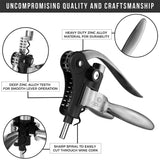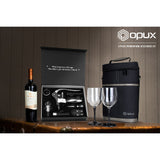 Premium 8 Piece Wine Bottle Opener Set
Packaged in magnetically sealed black storage box, this toolkit covers all core functions from opening to serving wine. Perfect gift for wine lovers, connoisseur, and enthusiast. 
Rabbit Corkscrew: Ergonomic handle for comfort hassle-free wine opening in seconds 
Aerator Pourer: Expand the aromatic profile, giving the wine much more flavor 
Vacuum Stopper: Removes excess air to better preserve wine 
Wine Stopper: Save unfinished wine while keeping it fresh 
Foil Cutter: Remove the foil covering on wine bottles 
Drip Ring: Prevent drips and stains on the table or counter
Product Specs 
Dimensions box: 10.7 x 8.5 x 2.5 inches (L x W x H) 
Content Material: 500g Heavy duty Zinc Alloy 
Weight: 3 lb 3 oz 
Included Accessories: Rabbit Wine Opener, Spare Corkscrew Spirals (2), Wine Aerator Pourer, Vacuum Stopper, Wine Stopper, Foil Cutter, Drip Ring
Care Instruction 
Wipe clean with damp cloth
Dry Immediately
Do not place in the dishwasher.